Bharathanatyam is an art form proclaimed to be one of the most divine by many art lovers. This dance form not only tones the body but disciplines the mind and inculcates the spirit of Indian culture and ethos in practitioners. This is integrated with Yoga to give the best physical and mental benefit to the learner.
We offer Bharatanatyam classes at Ramakrishna Nagar and Hebbal centres, conducted by Vidushi Smt. Nagalakshmi Nagarajan, one of the shining exponents of this art.
Tuesday & Thursday — Ramakrishna Nagar Centre — 5.45 pm to 6.45 pm 
Monday & Wednesday — Hebbal Centre — 5.45 pm to 6.45 pm 
Profile of Smt. Nagalakshmi Nagarajan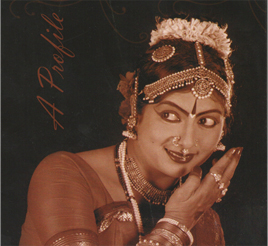 Smt. Nagalakshmi started learning Bharathanatyam at the age of ten, under the able guidance of Guru Smt. Vasanthalakshmi at Bangalore. She has done her advanced training under
Guru Dr. Vasundhara Doraswamy in the Pandanallur style of Bharathanatyam at Mysore. She was initiated into Yoga by her Guru Dr.Vasundhara and she has continued to practice Yoga under the guidance of Guru Sri S. Sudhesh Chandra of Shri Upanishath Yoga Centre.
Smt. Nagalakshmi has passed Vidwat examination conducted by the Karnataka Secondary Education Board with first class. Having keen interest in the theory of dance, she completed her masters degree in Bharatanatyam (M.A) in 2013.
She is the recipient of scholarship awarded by the Karnataka Sangeet Nritya Academy. She performed her Rangapravesham in 1994 successfully with very good reviews. She has participated in the South Central Zone Cultural Competitions in 1994 and secured a prize. Smt. Nagalakshmi has given performances in programmes organized by the Kannada and Culture Department, Govt. of Karnataka and Bharatiya Vidya Bhavan, Bangalore and has won encomiums. She has participated in solo and group performances with her Guru Dr. Vasundhara Doraswamy in many cultural festivals throughout India including the following:
• Hampi Festival, Nov 2007
• Lakkundi Festival, Feb 2008
• KittappaPillai Yuva Nrityotsav, Bangalore Mar 2008
• Iskcon Brahmotsava, Bangalore April 2008
• Festival of Nature, Govt. of Karnataka and Dept. of Tourism, Sep 2008
• Pravah, Festival of Dance, Ernakulam Jan 2009
• Konark Festival, Dec 2009
• Dance Jatre, Bangalore Dec 2009
• Performed at Suttur, Mantralaya and many more places.
• Vishnudas Memorial Concert
• 'Vasudeva Abhinandanam' at 150th Birth Anniversary Celebration of Sangeetha Kalanidhi Mysuru K. Vasudevacharya
• Performed with Guru Vidushi. Radhika Nandakumar at 'Shastra Utsav', New Delhi and at Hampi Utsav.
She has performed in the famous choreographic presentations of her Guru Dr.Vasundhara Doraswamy viz. Surya Namaskara, SriKrishna Tulabharam, VidyunMadanika and many more.