The rich heritage of Carnatic music is taught along with devaaranamas (keertana) by accomplished teachers.
Ramakrishna Nagar Centre
Batch 1 – Tuesday and Thursday – 5 PM – Carnatic music with Devaranama – Vidushi Nagasudha
Batch 2 – Friday and Saturday – Carnatic music with Devaranama – Vidushi Mahima Kashyap
Sugama Sangeeta (light music) & Gamaka batches also conducted – Vidushi Mahima Kashyap
Hebbal Centre
Batch 1 – Monday and Wednesday – 5 PM – Carnatic music with Devaranama – Vidushi Nithyashree
Batch 2 – Tuesday and Thursday – 5 PM – Sugama Sangeeta (light music) – Vidushi Nithyashree
Profile of Vidushi. Nagasudha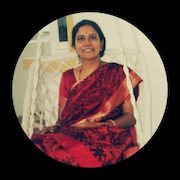 Vid. Nagasudha learnt Carnatic music from Vidushi B. Padmamma, a senior musician from a very young age and completed her Vidwat Examination under her tutelage. She pursued academic interests by completing BA Honours in music at Maharanis College, Mysore.
She became a Mysore Akashvani Yuvavani Artist at a very young age. She has worked in the Postal Dept for 24 years during which she has actively participated in many National Cultural meets.
She continued to get guidance under Dr. Sukanya Prabhakar since 1993 and then went on to deeper learning of the art of music from her after she took voluntary retirement in 2009. Vidushi. Nagasudha is groomed under the able guidance of Dr. Sukanya Prabhakar who started Surabhi Gana Kala Mandira with the intention of giving greater knowledge and opportunities for learners of the divine art of music.
Profile of Vidushi Nithyashree R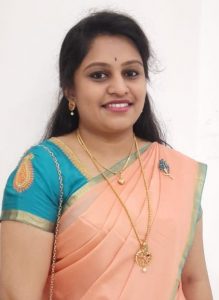 Vid. Nithyashree R is a passionate young musician from Mysuru, who nourished her musical instincts in the cultural city. She started her journey in music at the age of 6 years from Vidushi Revathi Purushotham, finishing her junior grade exam from KSEEB, Karnataka. Continuing her thirst for more, she groomed herself under the tutelage of renowned Carnatic vocalist Guru Dr.Sukanya Prabhakar, practicing for over 15 years with her and completing her senior and vidwat grade exams with very high grades. She has been an ardent performer in various concerts for over a decade.
She holds a Bachelor's degree and Gold medal in Environmental Engineering from Sri Jayachamarajendra College of Engineering, Mysuru.
Some noted performances of hers include musical features directed by her Guru Dr.Sukanya Prabhakar, including Purandaradasa Aradhane, Nadarasatheerthayatre, Noukacharitre, Prahlada Bhakti Vijaya, Krishnaleela tharangini and programmes of Ramathsova, Thyagaraja Aradhane and Mysore Dasara.
She has represented her college at IIT Guwahati & IIT Kanpur fests and won 1st place in Carnatic classical music at BITS Pilani Goa, participated in the centenary celebration program of Mysore Maharaja Sri Jayachamaraja Wodeyar. She was awarded the title "Mysuru Ganashree" by Haridasa Sangeeta sahityotsava institution in 2018.
She has won over 300+ prizes in carnatic music, light music, Bhavageethe competitions held in district and state level competitions.
Profile of Vidushi Mahima Kashyap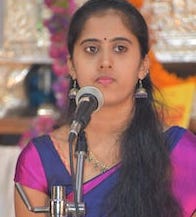 Kumari Mahima Kashyap is from Channarayapatna from Hassan, which is renowned as a hub of classical music in the state. Being interested in music, she started learning gamaka, devaranama and traditional songs from her grandmother gamaki Smt. Lalithamma Rangarao. She won various prizes in gamaka, bhavageethe, bhaktigeete, rangageete and sugama sangeeta competitions from a very young age. Having completed her Bachelor's in Music from Maharani's College Mysuru, she is pursuing her Masters in Music at Dr. Gangubai Hanagal Music and Performing Arts University in Mysuru. She continued her learning in gamaka from gamaki Dr. MS Sanathkumara Somayaji of the famous Samskruta village Mattutu in Shivamogga district. To add to her accolades, she received the Gangamma Keshavamurthy award and first prize in the state level gamaka competition by Siri Gamaka web channel. She has performed for Chandana Vahini and many other places across the state. She has completed her senior grade with distinction in Karnataka music conducted by KSEEB under the guidance of Vidushi Dr. Sukanya Prabhakar at Mysuru and is pursuing her Vidwat grade.